Falling Leaves
October 22, 2014
Toys – Keep it Simple
October 27, 2014
As parents, we want to make eating fun and healthy for our kids. Moving from baby foods to finger foods is always exciting and can be overwhelming! In the grocery aisle, we are presented with a mind-boggling amount of pre-packaged finger food options. While many are delicious and easy choices for your toddler, the cost can really add up! For your Finger Food Friday, I present to you a list of cheap, easy and HEALTHY finger food options for your child to snack on!
Peas – thawed, frozen peas right out of the freezer are delicious. Toddlers eat them like candy!
String Cheese – slice mozzarella sticks the same way you would a hot dog (in half lengthwise, then cut in to pieces) and you've got a delicious dairy option! Try other flavors, too!
Green Beans – right out of the can, drained of course. Try other beans this way, too!
Melon – watermelon, cantaloupe or honeydew, cut in to tiny chunks (seedless of course!) make flavorful snacks. For older toddlers that are taking bites, try cutting these about the size of a steak fry, to grasp and hold.
Cereal O's – whole grain cereal options, particularly the O shapes, are easy for little fingers to pick up.
Banana – slice up some banana wheels for fun! They take some work to pick up off the high chair tray, but that's good! We are refining those fine motor skills.
Mandarin oranges – drain the juice (not syrup) and cut in half…babies LOVE the flavor!
Tortellini – A frozen bag of tortellini tossed in to a pot of water at a rolling boil just until the tortellini float…cut in half. They have enough flavor to present a new taste, and are easy for the tongue to mash against the roof of the mouth and soften. These were my kids' favorite! Add a side of canned beans, you've got a meal!
Gnocchi – now we are really stretching it, but this potato pasta is perfect for little fingers! Cut in to halves or quarters as needed.
Apple – chopped apples warmed in the microwave to soften make a delicious dessert!
Happy Finger Food Friday to all! Tell us your child's favorite snacks! Thanks go out to our friend Laura for the idea behind today's blog. Do you have an idea that you'd like to hear about? Just ask!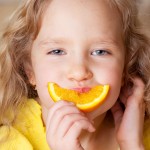 Send to a friend!