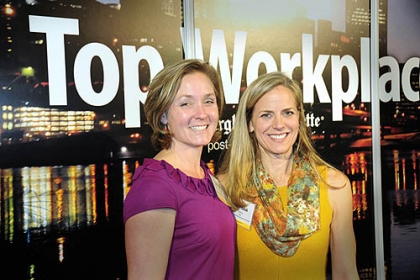 Our Story
Julie Hudak and Tara Deringor, both licensed Physical Therapists with backgrounds in business, met while sharing an office at an outpatient pediatric therapy facility. They hit it off right away and found that they had a lot in common. Perhaps the most important common factor was their passion to change the trajectory of children and families lives.
Prior to forming TEIS, Julie and Tara also were independent contractors in early intervention, working with families of kids in the birth to 3 age range. While they loved having a positive impact on children while providing physical therapy in the home, they knew there was more they could do to make a difference for these children and their families.
Starting TEIS in 2004 allowed Tara and Julie to channel their passion for Early Intervention through the combination of their business acumen and therapeutic expertise.
TEIS therapists share the passion that led Julie and Tara to become Early Interventionists. Our therapists consult experts and utilize a wide variety of resources within and across disciplines to ensure we meet our shared mission: to provide individualized, child-led, family-centered, play-based treatment to help children and families reach their full potential.
Our Credo
TEIS Early Intervention is a highly trained, interdisciplinary team of compassionate professionals whose mission is to empower all of the lives we touch in order to improve the lifelong trajectory of children.
We are always committed to building strong relationships, rooted in mutual respect, with our peers, families and our community. Our TEIS team is dedicated to provide a customized experience, so that every child reaches their full potential.
The TEIS Early Intervention journey is rewarding and meaningful, bringing harmony to lives, while helping families thrive.
Our therapists cherish their roles as
Continuing a Tradition of Excellence
In 2012 and 2013, TEIS was ranked 2nd and 1st for companies with 50-150 employees for the Post-Gazette's Top Workplaces. As mother's themselves, Julie and Tara know how important it is to have a good work/life balance. At TEIS, there is also a strong emphasis on continuing education, beyond the requirements of the state and professional organizations. This in turn, is reflected in the impact our employees have on the families we serve.
Every year since 2014, TEIS has been the most requested Early Intervention provider in the greater Pittsburgh area. We thank the families we have served and are serving for their continued support of our efforts and the many recommendations that they make to friends and acquaintances.
Thank you for letting TEIS be a part of your child's life!