Healthy Eating During the Holidays
December 4, 2015
Just Fixing a Flat-What Can Be Done To Correct Plagiocephaly?
December 15, 2015
How to Survive a Holiday Party with a Toddler in Tow
By Kristen Burke, OT   TEIS Occupational Therapist
I was at a party with my family a couple of weeks ago and I watched as my friend's toddler had a complete meltdown in the middle of the kitchen. He threw himself on the ground, sweaty and screaming. The mom was red faced from embarrassment as she struggled to pick the thrashing toddler up off the ground. He proceeded to cry nonstop for the next 20 minutes, until she gave up and left the party. Anyone who has raised a child has probably been in this position themselves. I myself have a rather sensitive and intense 3 year old, who has had her share of meltdowns. With the holidays in full swing and a get together scheduled every weekend through the new year, I have been reflecting on what helps young children through the often overwhelming experience of holiday parties. Below are some tips I have gathered through my experience as a mom and a therapist: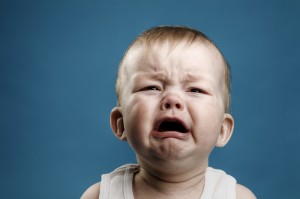 The number one rule – PREPARE AHEAD OF TIME!
A couple of days before the party start to talk to your child about what will be happening. It is easier for children to deal with new experiences, if they feel like they know what to expect. If possible, it may even be helpful to show your child pictures of people who are going to be at the party or a picture of where the party is being held.
The day of the party. Try to keep things pretty low key before the party. Read books together, watch a movie, take a walk or have a nap. Nothing spells disaster more than having a crazy day of running around and then heading to a party with your toddler.
Feed your child before the party. I know this sounds a little crazy. You are going to a party and there will be food everywhere! Kids never eat at parties. They are too busy running around and playing. The last thing on their mind is sitting down and eating. Plus who knows if there will be a food that your picky toddler will actually eat. Remember, a hungry child is a cranky child.
Dress your child comfortably. I know the frilly dress, tights and dress shoes are adorable, but consider comfort. Your child may be too hot in that heavy Christmas sweater in a room full of people, while running around with all of the kids. If you want everyone to see the cute outfit that you so carefully picked out, have your child wear it to the party, but bring a change of clothes. I take my daughter's pajamas to every evening party we attend. That way I can change her into comfy clothes, and if she falls asleep in the car on the way home, I can put her straight into bed.
At the party keep an eye on your child and read her cues. Are you seeing signs of a meltdown? Maybe it is time for a break. Take a walk outside. Go into a quiet room for a few minutes of one on one time with mom or dad. Give your child a big hug. Rock from side to side or do whatever you know organizes your child. Another favorite trick is some deep breathing. If your child is too young to understand deep breathing, try blowing (bubbles, whistle, tissue paper). Blowing is a great way to encourage deep breathing. Keep a little bubble container in your purse. Bubbles are magic for kids!
Have reasonable expectations about what your child can tolerate. You may need to leave the party earlier than you would like, but it is better than dragging a screaming toddler out the door.
Have an exit strategy. One thing that is always a challenge is getting my daughter to leave a place where she is having fun. One way I deal with this is to leave a little reward in the car. Do you remember the M&M we put in the cup holder? Pack a favorite toy for the ride home. Minnie mouse is waiting in your car seat. Keep some stickers in your purse and use them as a reward. Promise a fun activity when you get home.
Best of luck with keeping a meltdown at bay during your next holiday party!

Send to a friend!