'Chloe's Law' educates would-be parents about Down Syndrome – Pittsburgh Tribune Review
August 27, 2015
September 2015 Family Friendly Community Events
August 27, 2015
Got Back to School Anxiety? Take a Deep Breath!
Today's entry is from our guest blogger Tamara Guo, M.Ed.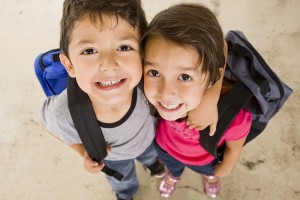 You've been counting down the days until your older children return to school, right? Yikes! But now the time is here and there is SO much to be done and you're about to pull your hair out. Clothes shopping, school supplies, packing lunches, meeting new teachers, sports sign ups, the list goes on and on. Not only are you stressed out, but so are your kids. Take a deep breath, there are ways to handle the back to school transition without driving yourself or your kids crazy. And once the older kids are settled into their new school year routine, you'll be back to having more free time with your toddler and/or a bit more "me time". Getting your kids off to a good start at the beginning of the school year can have a broad impact on everything from their confidence level to their academic performance. How can you as a parent help make this transition go more smoothly?
Make a school supply checklist and bring your kids with you to the store in order to obtain all necessary supplies. This can make the school year exciting by picking out their favorite notebooks, pencils, pens, pencil cases, etc.
Scale down your clothes shopping, after all, your kids will be growing during the year and the weather will be changing as well. Be aware of dress codes and be sure your kids have one pair of properly fitted shoes. Shop resale, or consignment for bargains.
You may have let your kids schedules run wild during the summer months, but now is the time to re-establish homework, meal and bedtime routines so your day and theirs flows more smoothly.
The more organized you are, the more organized they are, so find a common place in your house where your child can place his backpack, leave you any notices from the school and make it his responsibility to clean out his lunch box & wash empty containers.
Pack lunches the night before to ease the morning rush. And if your child is old enough she should be able to prepare or even pack her own lunch with your guidance.
Review all school info, including teacher's names, room numbers, bus schedules, school calendars (for advance notice of closures and school holidays)
If you haven't scheduled a back to school physical for your child, do so now, it may be needed for sports participation
Be sure your child has a distraction free area to complete homework
During the first few weeks of school when everything is new & still hectic, you may want to make and freeze a week's worth of meals to make dinner prep easier for you and your family
Take an active interest! Review your child's course work & books, help with homework, and ask open ended questions about their day-instead of "how was school?" ask "What did Mr. Marino discuss in math class today?" or "Tell me about the book you're reading in English class".
Touch base with your child's teachers at the start of the year and let them know that you are actively interested in hearing feedback on your child. Don't simply wait for parent-teacher conferences. This can help head off any problems or learning issues that may arise.
The first few weeks of school can be tough on kids (and yes, on parents too), but try to remain positive. Reinforce your child's coping skills and be patient! Your child's confidence level, ability to adapt to change, and social and academic performance can be bolstered by your encouragement!
What tips and tricks do you have for taking the anxiety out of back to school?  Please share with us!

Send to a friend!