Fall Crafts for Toddlers
September 24, 2014
The Toddler Creed
September 26, 2014
Cooking on a Busy Schedule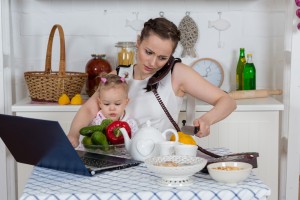 We have all arrived home and asked our children and family, what would you like for dinner? The overwhelming response is generally, "I don't know." So, we start to rattle off some choices, "Spaghetti?" – "No, I'm sick of spaghetti!" says the teenager, "chicken?" – "Me no like chicken!" says the toddler, "Meatloaf?" – "Ewwww…meatloaf?!" exclaims the 8 year old in complete disbelief. Mommy is starting to feel like the main character in The Little Red Hen ("Then I'll reap the wheat myself, and she did!")
At this point I'm at my wits end, and turn to my spouse for ideas, to which he replies, "Anything you make will be fine, dear." Which is kind, but really leaves me exactly where I started. I'm exhausted from a long day, homework still needs to be done, violins and piano practiced (how many renditions of "Hot Cross Buns" can I hear in one day!) , dance class attended, baths, stories, reading, snack…there is no end in sight.
All I want is for someone else to make the decision for once!
Alas, an idea emerges! Well, not for tonight, because you're now all getting hot dogs and boxed macaroni and cheese (don't judge). But for making my life EASIER!
What if…hear me out on this…what IF I make a dinner plan on Sunday that will last the entire WEEK! To make it EVEN EASIER, I've labeled each day of the week by a type of food:
| | | | | | | |
| --- | --- | --- | --- | --- | --- | --- |
| Sunday | Monday | Tuesday | Wednesday | Thursday | Friday | Saturday |
| Traditional | Italian | Slow Cooker | Mexican | Out to Eat! | Leftovers | To Be Determined |
| Roast Beef, Baked Potatoes, Corn | Spaghetti, Salads, garlic bread | Chili in the crock pot, mashed potatoes | Chicken Soft Tacos, Chips and Salsa, Black Beans and Rice | We picked Thursday, since it's LESS CROWDED for kids! | Lots left to eat! | Usually an event for the family (sports, baby showers, etc. is happening, so harder to plan) |
The meals listed are just suggestions. Another fun one is "breakfast for dinner!" with pancakes, bacon, eggs and fresh fruit! You can be as creative as you want to be!
Now, I have actually tried this technique and it REALLY WORKS! I can hit the grocery store one time per week (maybe twice for more milk, eggs and fresh fruits and veggies), but not having to decide EVERY DAY what will be cooked, has made my life much more manageable. And let's face it…if Mama's not happy, then nobody's happy! Bon Appetite!

Send to a friend!