Time Away from the Kids
June 10, 2015
Benefits of Pool Play!
June 18, 2015
As therapists, we spend a lot of time with young children and toys, and we've picked up some really awesome ideas from our families. Here are just a few!
Skip the battery operated toys! Many gift givers fall for these "educational" toys, but the best way to learn is by "doing", not having the toy "do" for your child.
For example, my little Joey LOVED his wooden train set – just a simple, no frills figure 8 with 4 little wooden cars that connected by magnet. He would take it apart, build it another way, and move it to another room, often even under the dining room table! He made the train sounds, and crawled around the track as he drove the train. He played with this for so long! As a gift, he later received a battery operated train. So, we built the track, turned on the train, and he SAT there watching the train go around. His attention span for this toy was much shorter and his imagination was practically gone.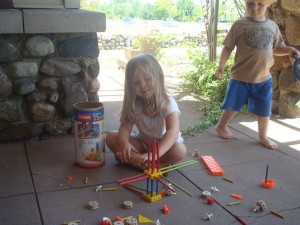 This is not what play is about. Play is the work of the young child. It is how they learn, grow and develop. Watching that train travel around the track was not playing, it was watching.
Make clean up a cinch by having bins or containers for categories of toys, and labeling the container with a picture.
At our house, we have a bin for cars, a bin for princess dolls, a bin for the train set…the list goes on and on! I used a three shelf plastic cart for the girls (it even has little wheels) to use in the play kitchen. One drawer has a picture of food, one has a picture of dishes, and one has a picture of tools.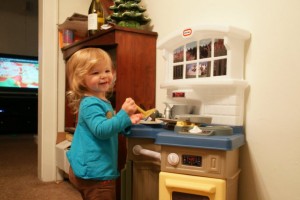 Rotate your toys
To keep play fresh and new, rotate the toys every few weeks. It's okay to put away the block set for a while, and get out the peg boards. Or put away the kitchen set and get out the tool bench. Kids get excited by the change. It all feels novel!
When you receive gifts for a holiday or birthday, set aside a few of the items (chances are they got a ton of loot!), and pull them out on a boring rainy day in a few months. Voila! Brand new toys to excite them for learning!
Make cleaning toys fun, by allowing your child to participate.
Think of how much they love to play in water…Create a water table by using a dishpan, the bathtub, or the kitchen sink. You could even use a baby pool! Add warm water, dish soap and some rags. You'll have quality time together, and you are getting a big job done!
There are so many great ideas that families teach us every day, and we love to pass them on to you! What kind of tips do you have when it comes to toys? Share with us! Comment below!

Send to a friend!