Tips About Toys
June 16, 2015
Playground Play
June 25, 2015
How many of us have memories from our childhood that involve summer and water? Trips to the beach, afternoons at the pool, swimming at the lake, even right in your own yard! My brother and I played for hours in the sprinkler every summer! So, there has to be some benefit to this, right? After all, it's fun! I reached out to my colleague, Denise Dahl, PT, who also has experience with aquatic therapy to get some ideas from a pro! Here's what Denise had to say:
It's hot outside and the kids want to play in the water, GREAT!  Whether you have a baby pool in your yard or access to a bigger pool, water is a great way to cool down, burn off some energy, bond with little ones, and it provides lots of learning as well as entertainment.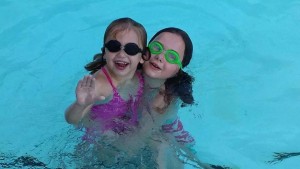 Disclaimer – everyone knows how important it is to stay protected from sunburn so don't forget the sunblock, reapplying the sunblock (hardest part for me), other protective clothes like hats, sunglasses, and t-shirts or cover-ups.  If you're playing in your own yard, you can even set up the baby pool in a shaded area.  If you're going outside, choose early morning or late afternoon times to avoid the hottest times of the day (10 am -2 pm).
You don't need a lot of special equipment to get your child active.  My favorite thing to take in a pool are nesting cups or measuring cups.  Kids love to fill and dump water in these containers.  Look around for things that float, small balls, maybe some bath toys you already have. Get a new sponge and cut in half or quarters to create something that you can squeeze the water out of.  Pool noodles are a great dollar store find.  Cut them in slices to give you floating discs that are round (or look like flowers if you use the bumpy kind).  Cut them to make shorter lengths so they fit little bodies better and are easier to manage in the smaller pools.  Spray bottles are a great entertaining way to play and cool off too.
If your little one can sit, the water in a baby pool filled up a few inches can actually provide a little support and make sitting easier.  I've even had people tell me they've used laundry baskets in the baby pool to help with sitting balance.  You can also use a blow up inner tube or round floatie to sit in with more support.  When you hold your baby under their arms in a deeper pool, they often start "running" or kicking their legs back and forth.  You can hold them facing you to talk and bond or even get a cuddle if your child is a little nervous about the whole thing. You can even work on "core" exercises (hahaha) by holding your little one and tipping them a little bit to their side, backwards, and forwards.
For older children, walking on their hands in shallow baby pool water or lower water levels in big pools and pretending they are different animals is fun.  You can have them blow a light weight floating toy like a ping pong ball across the water.  This is fun and helps them develop breath control.  When kicking with the legs, help or hold your child so he can kick while on his back, belly and when being held straight up and down to work all his hip and leg muscles in all directions.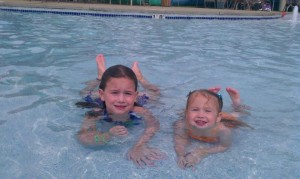 If the water is deep enough to walk in, you can pass a lot of time getting them to play games moving a different way across the pool.  I used to do this with my kids (and my clients as I worked in a pool for many years).  First they might jump with two feet across, then walk with little steps, big steps, on tip toes, crouched down, hopping on one foot, walk backwards, sideways…You can have them think of ways to "move" across and then everyone can copy them if there are other kids.
So have fun, get wet and be safe!  You can get a lot out of being in the water. How have you incorporated water play in your summer so far? Share with us by commenting on the blog!

Send to a friend!