Indoor Water Play
October 29, 2014
The Out of Sync Child
November 5, 2014
We Didn't Carve A Pumpkin
Holidays are full of tradition for families, and Halloween at our house is no different. When I first had kids, I was determined to create new traditions (caramel apples didn't last past two years…too messy!), as well as keep some of the favorites that my husband and I grew up with…watching "It's the Great Pumpkin, Charlie Brown" and carving a pumpkin!
Holidays are also full of stress for me! I know I'm not supposed to allow it! I know I'm supposed to focus on the memory making! I know I'm not supposed to put pressure on myself…but I do! I just can't help it! But I'm learning, and I'm working on that. The fact of the matter is I work a lot. Along with that, our family has quite a few evening and weekend commitments outside of work that take up the few hours I get to spend with my family in the evenings. And sometimes – let's just be honest here – I'm either just too tired, or just want to be home. And strangely enough, I don't like to shop! Maybe I don't like spending money, or maybe it's just overwhelming (if it's like that for me, imagine what it's like for a toddler!), but walking in to a store full of holiday choices is just mind boggling at times! Skeletons, ghosts, lights, sounds, pumpkins, costumes, candy, treats, and crowds…the list for last week went on and on!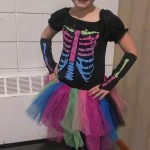 I was finding myself becoming increasingly disappointed in ME as the week went on. Due to schedules and weather, we weren't getting to the pumpkin farm like so many other families were able to do. We NEVER miss the pumpkin farm! This year we were going to miss it. I didn't get any cute little gift bags created to pass out at school. These are the things I love to do…but this year, it just didn't happen. And the biggest Mom-Fail of all for me…we didn't carve a pumpkin. Normally, every child (whether by birth or by living on my street) would have a pumpkin to carve on my back porch. We would design the faces, and the kids would work hard, while I took pictures and we celebrated the creativity. This year, I waited too long, and the pumpkins at the nearby stores were gone. Argh!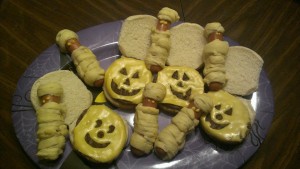 To combat this, I've been trying to focus on the positive…recognize the little things that I was able to do with my kids, and not stress on what I've missed. So, here's a few of my favorites from last week!
Pumpkin burgers and Mummy Weenies! This was dinner the night before Halloween, because Grandma always makes chili for us on Halloween night (tradition!)…these were super easy and cute! Add a side of grapes and smiley fries and we had a complete meal. And YES, my picky eater told me how cute they were, then he asked for a regular hot dog. LOL
Spider Web Hair! The kids didn't dress in costume at school, but each day last week was a different "special event"…so Sarah requested "spider web hair" on Crazy Hair Day. I think I pulled it off! She was happy, so I was happy.
Clementines! No, I didn't get any cute treat bags created for the preschool class or the third graders. And guess what – THE KIDS DIDN'T EVEN NOTICE! The morning of Sydney's Halloween party, I looked around the kitchen and asked Sydney if she wanted to take a bag of candy for her friends, or a bag of Clementines (you know, those baby oranges)…and she chose Clementines! LOL …so guess what we took to school? Clementines! Did they have pre-printed computer labels with pumpkins and a message from Sydney? Nope. Did they have special packaging and ribbons? Nope! Was Sydney happy? YES!
There were of course lots of other little things that happened to make Halloween special, including friends, family and costumes. Sure, I could have spent my time dwelling on what we DIDN'T get to do…but instead, I am choosing to celebrate these. What are some of the little things that you can think of that made this season a happy one for your family?

Send to a friend!