The Heckman Equation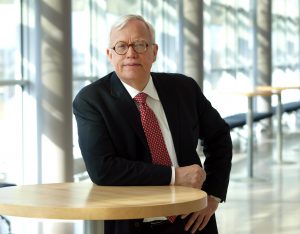 Whether you're a long-time prenatal-to-three advocate looking to further your mission or just getting started in the field, use Heckman Equation and other expert resources to communicate the value of investing early in high-quality early education for kids.
James J. Heckman is the Henry Schultz Distinguished Service Professor of Economics at the University of Chicago, a Nobel Memorial Prize winner in economics and an expert in the economics of human development. He has conducted groundbreaking work with a consortium of economists, developmental psychologists, sociologists, statisticians and neuroscientists showing that quality early childhood development heavily influences health, economic and social outcomes for individuals and society at large. Heckman has shown that there are great economic gains to be had by investing in early childhood development.
Resources
Resources, including articles, tool kits, and presentations are available on the website of The Heckman Equation.
The HeckmanDigest
To receive regular updates from The Heckman Equation, enter your email under the Stay Connected option at the bottom of the webpage on The Heckman Equation.
June 2020
From the June 2020 issue of The Heckman Digest, we found the following articles of interest:
Quantifying the Life-Cycle Benefits of an Influential Early-Childhood Program
Research Presentation for Birth-to-Three Advocates
New research quantifying the lifetime benefits of a high-quality early childhood program estimates the internal rate of return is 13.7%—an ROI that is highest for investments made beginning at birth.  Learn More…
Heckman Equation, Birth-to-five ECE infographic
Use this 1-page resource to explain the benefits of a high-quality early childhood education program that begin at birth—including the ROI research, lasting IQ gains and the benefits of mothers re-entering the workforce. Learn more…
Alliance for Early Success, COVID-19 Resources
Find resources by state regarding various topics, policies, calls for action and other important response information to connect advocates and inform about the latest expertise and actions being taken in the wake of COVID-19, as relevant to child care providers and families.  Learn more…
Information from The HeckmanDigest and The Heckman Equation shared here under Creative Commons Licensing, without modification and as a non-commercial resource for visitors to this website.