April 2015 Family Friendly Community Events
March 28, 2015
Thank You to Our Families!
In the Fall of 2014, we decided to start a Blog on our website. In today's day in age, there are so many AMAZING technological and creative ways to reach our families, that we decided to grow…again…which we do OFTEN and WELL (if I do say so myself 😉 ).
To say this has been a learning experience would be putting it LIGHTLY! I am not a writer! I am a MOM, and a WIFE, and an Early Intervention Therapist, who happens to have been around long enough to know everything from Ronald Reagan quotes to One Direction songs! (okay, before Reagan…shhhh). I am also a PERSON! Just like you…. our readers, and I make every effort to connect that knowledge of Early Intervention with the reality of being a [working] Mom.
Our readers have been AMAZING and KIND! We are hoping to reach families of young children, both with and without special needs. You have "liked", "shared", and "commented"! And – at the same time- we have LEARNED! And we will continue to learn!
So…in honor of our 50th Blog Post…I say a sincere THANK YOU…
THANK YOU to every reader for taking time out of your hectic schedule to find out what we have to say.
THANK YOU to every FAMILY…for allowing us to touch the lives of YOU and your CHILD.
THANK YOU to every single one of our therapists…our TEIS TEAM! You are always willing to share your knowledge to help others!
THANK YOU to Tara and Julie, our fearless leaders, for trusting me with this new and exciting task! I can't believe we are at 50 posts!
THANK YOU to our front office staff…for your ideas, your creativity, your time and talent, and your continued patience with me!
And of course THANK YOU to my own family for allowing me to share your (ahem…crazy) stories for others to learn from!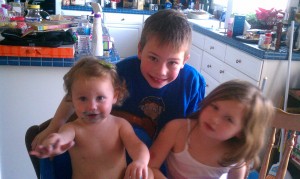 What would you like to hear about in the upcoming months? More feeding? Sensory? Motor? Communication? Behavior? Leave a comment to let me know!

Send to a friend!