Choosing Bottle Nipples
February 26, 2015
The Power of One: The Down Syndrome Prenatal Education Act
March 6, 2015
We have all heard how important it is to have meals as a family around the table. I couldn't agree more! It's wonderful for modeling feeding, utensil use, drinking from an open cup, and trying new foods. It's an uninterrupted opportunity to talk to your children face to face, even in the high chair, and for them to hear you talk to each other (exposure to language). It helps to build relationships and social skills – in this age where we all text each other instead of calling – teaching how to communicate in person, and to have that loving feeling like their grown up cares about them.
And then….reality hits. And the baby falls asleep right before dinner…peace at last! The toddler can't sit for longer than two minutes and wants to run. The preschooler has soccer practice, and Daddy has to work late. Mom needs to clear the piles of mail and laundry from the table. Yes! This IS my house.
So, we eat in the living room again.
Sometimes it takes a gentle reminder of all the benefits of the family meal in order to feel pushed enough to try it. It really is amazing. Here are a few ideas to try and make your family meal fun:
Play a game around the table with the kids: Everybody think of a word that starts with the same letter, or everybody think of a word that rhymes.
For younger children: Read a story while they are eating. Hold up the book to show them the pictures. This will help them to stay longer. Color a placemat for everyone. Use their sign or words for "all done" to communicate with you that they are finished. Expect a toddler to stay for a shorter period of time. End on a good note!
If you offer a mealtime gathering prayer or song: Have the children choose which one it will be.
And most importantly, don't beat yourself up if you can't gather around the table for every meal. Even a few times a week is a benefit to both you and your child. It's an opportunity for your family to reconnect and regroup, no matter what the age.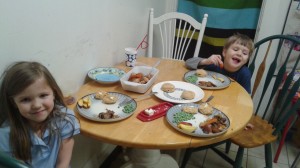 How do you fit in mealtimes at your house? What creative things have you tried to keep your kids at the table? Share and comment on the blog!

Send to a friend!