What Are YOU Thankful For?
November 18, 2015
5 Tips to Minimize Holiday Toddler Meltdowns
November 29, 2015
7 Tips to Get Your Kids to Help in the Kitchen this Thanksgiving
By TEIS Registered Dietitian Emily Novak, RD, LDN
Wasn't I just sitting on the white sand beaches enjoying the summer sun? It feels like I blinked and it is fall— that time of year again where my shopping list is a mile long and my to-do list is even longer! With Thanksgiving quickly sneaking up I need some extra help—so it is time to enlist the kids! That's right—I'm putting them to work! Who says a 3 year old and 16 month old can't help with Turkey Day!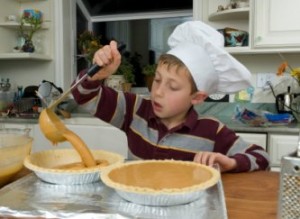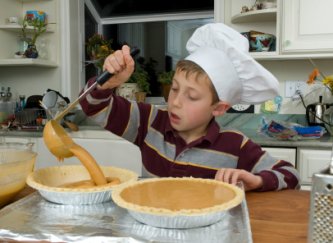 As a Registered Dietitian and Momma I love to find ways to teach my children about food and nutrition—so Thanksgiving is a perfect opportunity do this! From mashing potatoes, stirring a pot, scrubbing potatoes, stuffing the turkey—there is a ton of stuff children can do to help prepare for the big dinner! It's a great time to discuss how food is grown and where it comes from as well as the nutritional value of these foods. Reading recipes and using measuring spoons and cups also helps children with their reading and math skills. So why not get those kiddos in the kitchen to help!! Here are 7 great ways you can get your kids in the kitchen with you this Thanksgiving:
Go shopping. I know, I know– Taking your kids shopping is crazy, but really it can be fun! Let them help choose the foods for the meal. Help them to find what foods are the freshest or look at a nutrition label together!
Wash vegetables. Have your child rinse or scrub fresh vegetables for the meal. You can talk about how those foods are grown and what nutrients those foods contain.
Measure spices. Teaching your child to measure spices not only helps with math skills but gives a great opportunity to discuss how spices are used for adding flavor to some of their favorite dishes.
Pour, Dump, Stir or Sprinkle. Let your child pour the pumpkin pie filling into the crust, dump the cranberries into a saucepan, stir the gravy or sprinkle the vegetables with some spices.
Knead Dough. If you are making bread or pie crust from scratch let your child knead the dough. It's a great way to exert some energy too!
Chop Veggies. This is for older children—but it's a great opportunity to teach them how to use a knife properly. Give them some vegetables to cut and guide them along the way.
Stuff the bird. Stick a glove on and stuff away! Let your child touch and feel the turkey! Just be sure to cook that stuffing to 165 degrees Fahrenheit to prevent foodborne illness!
Thanksgiving meal prep doesn't have to be crazy—well it probably will be either way—but at least if you have your kiddo(s) helping you out they are building confidence, learning new things and creating memories. The quality time you spend with them in the kitchen now will be something they are "thankful" for later in life!

Send to a friend!